Monday, October 13th
Welcome Back!!!
This past Saturday I had the esteemed pleasure of judging Miss Lakeshore Wisconsin USofA. Now....if there is a preliminary that is one to watch - it's THIS one. The last one of the year and everyone who wants a shot at state would be showing up for it. Contrary to popular rumors, The D'Vine one in Milwaukee did NOT show up for the pageant.......but a couple of other DIVINE ones did.
The pageant is run by Miss DeeDee Winters with an enormous amount of help from our own Miss Jarica Jordan - the very FIRST Miss Lakeshore. I gotta say - this is one of the best preliminary pageants out there. A GREAT job. And Sheboygan??!! Who would have thought. Hat's off to the Blue Light bar for all their support.
The contestants were Mahalia White - a local resident of Sheboygan and a first time pageant contestant. Miss Alexis Winter from Milwaukee and former cast member of Club 219. Brittany Morgan, show director of C'est La Vie in Milwaukee. What a wonderful ensemble of talent and beauty.
Interview, Miss Morgan showed them why she IS the veteran of show and stage - perfect score. Talent was a little more nebulous. Both Alexis and Brittany did a wonderful, phenomenal job but in the end it went to the creative talents of Miss Winter (pictured above) and she is now your new Miss Lakeshore Wisconsin USofA. Congratulations, Alexis!! Brittany - you were phenomenal (as always). The point spread could not have been closer.
Miss Joey Black will be absent from the next two shows as she is on her way to entertain a college somewhere in Michigan for the annual "pride fest" drag show that they have. She's supposedly taking the bus..........which is good since they expect payment up front. Maybe she'll make enough money to pay for her transportation that she had LAST year to another college show. Oh hell, girl - just keep it. Kelly and my husband have already written you off as a charitable contribution on their taxes from that year and written you off in various other ways, as well! Have a great time.
I remember my last rode trip to Michigan so well.........the wayside graffiti was phenomenal! Wait....I have notes:
Beauty is only a light switch away.
-Bedroom - Susan



Fighting for peace is like
screwing for virginity.
-Bathroom, Mobile Station Fond du Lac


No matter how good he looks,
some other guy is sick and tired
of putting up with his shit.
Men's Room
Linda's Bar and Grill, Campbellsport


It's hard to make a comeback
when you haven't been anywhere.
- Joey Black's Bedroom, Miss Triangle - Milwaukee


No wonder you always go home alone.
- Oh.....this leaves it wide open, doesn't it?
Now, rumors being what rumors are, there are some cast changes coming up at Club 219. It will be a couple weeks before I can fully divulge the entirety of the situation but in the meantime I can say that the schedule for the next couple weeks has not been altered to any great extent. I can tell you that quite often schedules, directions and expectations are often very much in flux and controlled by all sorts of forces - but we'll keep you posted.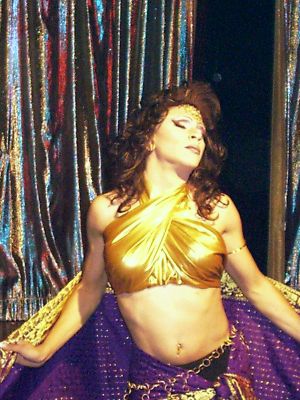 Saturday, October 11th
Fresh on the eve of the last preliminary pageant for State, I added this picture to let you see what you have to watch out for in the coming years. That's Miss Natasha Marques.......mark my word - she WILL be the hottest act in Wisconsin!
Speaking of acts, this past Thursday was the City of Festivals benefit for Miss Dixie Diamonds and Sharon Bumps. It was quite an act! On hand this evening were an assortment of some of Milwaukee's finest along with an exception or two.
On hand were not only Dixie and Sharon but Miss Lily White as the emcee for the evening. The benefit show included the newly 'sashed' Mr. Gay Wisconsin-at-Large, Jesse Rivera in his first performance as the title holder, Natasha Marques, Lady Gia, Deserae Triumph, the lovely Chantal, Alexis Winter, Lauren Phillips, Kelly & Bob and a very special guest.....Baby Jane Hudson. (NO SHOW).
The benefit was fun until the end of the evening when the dressing room became populated by everyone not associated with the performance. Some poor helpless slob became so 'saturated' that she had to use Lily White's shirt to wipe her face in between hurling her stomach contents into the waste basket. Not classy - not good - and it would have been nice if we could have at least known your name, honey!
More drama unfolded with the meaning of the word "benefit". As with all 'benefit' shows, the performers allocate their tips to the people who the benefit show is actually for. This was not the case for some of our 'special guests' - most notably a couple at the end who saw fit to release a couple dollars into the bag from the mound of money they made. Got news for you - if doing drag is your only job then you may want to think about getting a real job. This may be necessary since they'll never be invited to another benefit show that I have anything to do with nor will they appear any more than absolutely necessary on stage. I should have learned my lesson with Jesse's benefit since it was the same two culprits.......but we gave them the benefit of the doubt.
Even Lauren Phillips was up to the task to support his friends. Not only did he bartend until Midnight in 'drag', but RAN to the club to get ready within minutes of his number. Now THAT'S support. Note to stingy performers........this is they type of people you would want at your benefit if you should ever be fortunate enough to have one. I was truly ashamed of some of the performers in their actions and attitudes. It's one thing to be a bitchy queen - it's another thing to be a petulant little bitch over the most MINOR of details. Ladies - you're judged by your behavior both in and out of the dressing room by fellow performers and patrons. Their memory....and my memory.... is long. Enough said.
In the end, all things turned out well, for the most part. Unfortunately, the wild nature of the dressing room and the lack of control by some uninvited guests of the upstairs was the last straw for Lily White (and I certainly cannot blame her). She says 'Thank You' Milwaukee but as for other appearances it will be a long time.......if ever......at Club219. Thank you to all our performers - your generosity was greatly appreciated as is your friendship.
As for the shows - they will go on. My next few weeks are heavy with appearances and reflections on what type of performers I want to work with and what type of shows I want to work in. I'll be attending some wonderful pageants coming up, including this evening's Miss Lakeshore and towards the end of the month, Miss Wisconsin Classic. We should have some great pictures of Miss Lakeshore up shortly along with the winner of what should be the 'wildcard' last preliminary pageant for state.
Till next time............whenever that may be